Detalles

Categoría: Tours y Eventos
COM_CONTENT_PUBLISHED_DATE_ON
Escrito por Nico
Visitas: 187
Executive Virtual proudly presents:
Hey Executive Airliners!
For sure you remember the Tour Mediterráneo and the European Tour (Part I) which took us all over the southern and central European airspace ...
Now we thought about to discover the remaining European Countries which brings us to the incredible
European Tour 2012
You will discover countries over northern and eastern Europe which are nearly arctic, very sparsely populated, use the metric system in aviation and you perhaps never heard about!
We hope to see you all in Icelandic, Norwegian, Russian and many more Airspaces. Have Fun!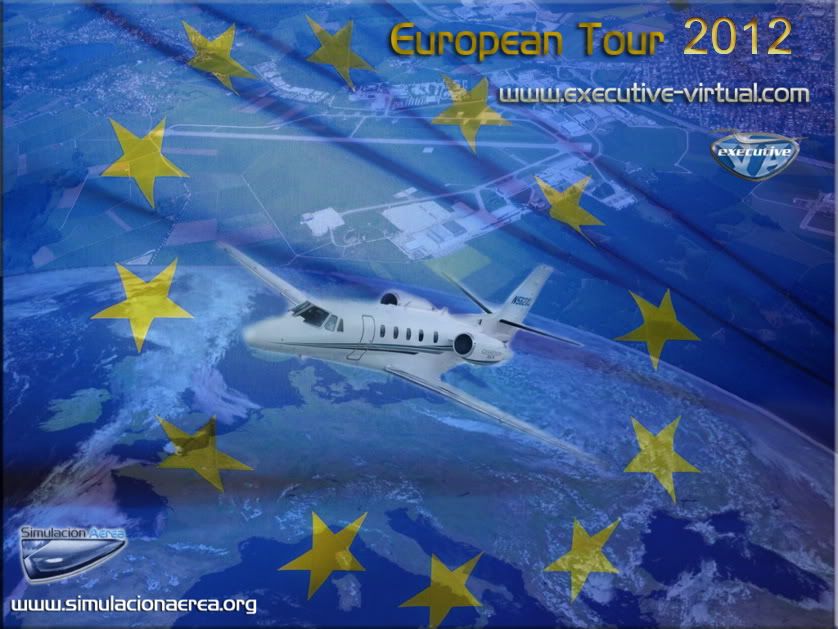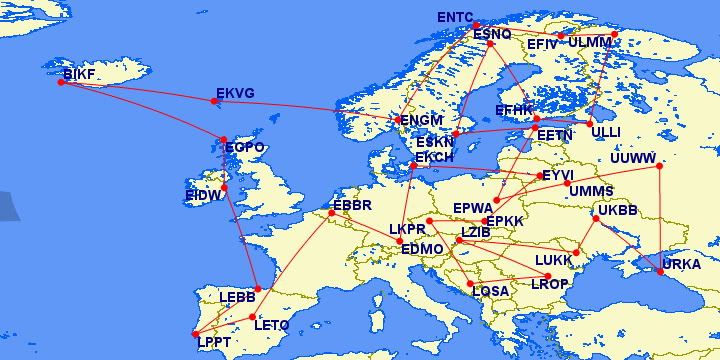 General Rules
AIRCRAFT: JET AIRCRATF
TYPE OF FLIGHT: IFR
MEMBERS NOT COMUNICATING INTENTIONS VIA UNICOM (122.800) CAN BE EXCLUDED FROM THE TOUR
All the legs MUST be flown online, with "real weather"
All the legs MUST be flown in the right order
ATC control is not necessary all the way
Flights must be flown in "realtime" mode (1x sim rate)
Please pay attention to your flight plans. Flight plans with wrong departure/arrival airfields will NOT be accepted
Remember to report legs in UTC TIME
Do not mistake take off and landing times with the moment you connect/disconnect to IVAN
When flying over midnight, select the date of departure
Also make sure to report your callsign in the according field as used on the flight
If you had disconnection(s) (15-20 minutes maximum allowed) during a leg and needed to change callsign, mention it in comments
Report your flight immediately after your finished the leg by using the PIREP-form. You find this form by clicking "Your reports" when you are "Signed in".
A list of your reports appears. Under that list you will find the link to the PIREP-form
Each leg will be checked by a validator and only will be valid after this validation
ENJOY THIS TOUR & GOOD LUCK
THIS TOUR WILL FINISH ON 31/12/2012
LEG ORIGIN DESTINA.ALTERN. Distance ROUTE
1 LETO LPPT LPMR 283 NM CCS UN975 TAGUX DCT EXONA
2 LPPT LEBB LEVT 443 NM IXIDA DCT ABRAT UN745 ZMR UN976 DGO B190 CEGAM
3 LEBB EIDW EIWT 635 NM MAPAX B11 NENEM UN867 DESAB UZ34 TERKU UN864 SALCO UN546 STU M17 VATRY
4 EIDW EGPO EGPL 363 NM NEVRI N34 BEL UN34 BEN DCT STN
5 EGPO BIKF BIRK 662 NM DCT MY G3 METIL
6 BIKF EKVG EGPM 434 NM SKARD G3 MY
7 EKVG ENGM ENRY 569 NM DCT CONNY G3 VALDI N623 FLS L24 ADOPI
8 ENGM ENTC ENSR 605 NM NUVSA N150 MAVIP T65 GILEN P600 LURAP
9 ENTC EFIV EFKT 226 NM IDLIN M609 ATA M613 ENEXI DCT NIPSA
10 EFIV ULMM ENKR 121 NM DCT KELEK A227 PELOR
11 ULMM ULLI ULOO 615 NM PELOR G476 KM G445 KN
12 ULLI EFHK EFHF 174 NM KO B965 LEDUN UN872 ELPIR
13 EFHK ESNQ ESNG 574 NM XELAR DCT PIVAK P854 LAPIX M607 BESLA M852 ASKEB P853 EMLET DCT TERPA
14 ESNQ ESKN ESSP 588 NM VAGAS T317 OSK T318 SIPRI P609 ARGIB P607 ELTOK M996 TRS
15 ESKN EETN EEKA 253 NM TRS L199 NILUG L734 NEBSI UL870 OSMUR
16 EETN EPWA EPLL 513 NM DCT NITSO UP725 VALGA UM985 BOKSU UM857 GERVI UP851 NEPOX
17 EPWA UMMS UMMM 277 NM BAMSO UZ182 ASLUX UL856 ETUBO UM863 GOVIK
18 UMMS UUWW UUEE 341 NM BERIS UM863 SODKO UP26 ABKOM UT52 MOSON/EBSML A104 FK
19 UUWW URKA URKK 657 NM WZ IP2W IP A131 KOREB/EBSML A131 KUTEB/WBSML A131 FORMA/odd UM995 OLGIN/even G476 RIDLA
20 URKA UKBB UKKM 489 NM SORUL G476 OLGIN UG476 DON/even UW538 DIMAB UA83 GE
(FMS Route: SORUL OLGIN DON GANRA DIMAB TAGAN PEKIT GE)
21 UKBB LUKK UKOO 236 NM SULUM DCT LAVDA
22 LUKK LZIB LOWW 512 NM BUSES UN978 BCU UL140 REBLA UY572 BUDOP UL850 DODAR UY34 XOMBA (UY572 was UZ155)
23 LZIB LROP LRBS 449 NM VAMOG UY55 GITAS UL605 LAMIT UL5 TUSET
24 LROP LQSA LDDU 356 NM POLUN UL852 VELIP UL5 KEB (FMS Route: POLUN VAMON EDOBU VELIP VAL BATRU KEB)
25 LQSA LKPR EDDC 450 NM BOSNA UL604 ELSIS UL156 TUMPO UT221 OSNEK UL726 VLM
26 LKPR EPKK EPKT 265 NM VOZ UL993 LIKSA UT303 ESETO UZ121 NETIR Z121 SKAVI DCT
27 EPKK EYVI EYKA 388 NM DCT JED UN133 LDZ UN871 SUW UM857 BOKSU UN858 IRKAL
28 EYVI EKCH EKRK 451 NM NEDAM UL749 GILUT UL749 TIGNU B65 LATMI UM865 LARMA M865 ROE M743 ALM
29 EKCH EDMO EDDM 526 NM NEXEN T503 GIMRU UT503 MIC UN850 WRB UN850 BOMBI T104 DKB W718 ELVAG Y61 MAH (FMS Route: NEXEN GIMRU MIC WRB BOMBI HAREM DKB ELVAG RIXED MAH)
30 EDMO EBBR EBAW 352 NM MAH UM726 UPALA UL610 LOHRE T880 ASDAK UT880 BATTY
(FMS Route: MAH ERNAS UPALA INBED LOHRE ESAMA UMUPU ADMUM DEVRU GEBSO ABDAK BATTY)
31 EBBR LETO LEMD 732 NM CIV UN872 KOVIN UY317 RESMI UN857 DIRMO UN10 VASUM UN857 BAN
Detalles

Categoría: Tours y Eventos
COM_CONTENT_PUBLISHED_DATE_ON
Escrito por Nico
Visitas: 187
Executive Virtual proudly presents:

EUROPEAN TOUR (Part I)
(Routes by Markus Link)

Hi all, dear pilots!
This is the time to fly Europe. Now on summertime, we´re expecting to fly the most important airports in Europe operating business aviation, to get the maximum pleasure of our flights. Expect to fly really sunny skies above the countries´ major green fields, take a deep breathe of fresh air of Swiss Alps, fly through the summer storms or simply to share some wonderful beer at Germany...
We want you to fly your EXU´s callsing over the skies of amazing countries, to discover the secrets hidden in them.
This topic is created for sharing info about the tour like dates and times for each leg, number of routes needed to fly all together and, if you want, to post some pictures of your flights sharing your experience. By other way, is important to know which are the basic rules for complete this tour correctly. Don´t worry for this. These are simple, fly the legs connected to IVAO network, comply with IVAO rules, and report your flight pirep on IVAO VASystem. Obviously, you can fly on FSAirlines at same time. The most important rule is to enjoy the tour!

ARE YOU READY FOR THE CHALLENGE?
Hello Pilots,
here all the legs of the EUROPEAN TOUR.
I mainly took the Top 20 of European Business Aviation Airports and tried to give them a good sequence.
1.) LETO-EDMO, EXU5150+5158, FL250-FL450, PINAR UN870 SEGRE UN871 DITON Z138 KUDES T103 DISUN, CFMU valid, 800 NM
2.) EDMO-LFPG, EXU810A+B, FL250-FL490, KPT UL856 AKABI UZ613 HOC UL856 DERAK UM982 TINIL, CFMU valid, 399 NM
3.) LFPG-EGLC, EXU811A,B+D, FL200-FL240, ATREX UT225 VESAN UL613 SOVAT, CFMU valid, 187 NM
4.) EGLC-LSGS, EXU812A+B, FL190, DVR L9 KONAN L607 GOLEX Y50 CIV DCT IDOKO J31 REM B3 VATRI G40 ARSIL A6 DJL DCT LIRKO Y55 GVA DCT VALOR W106 SIO VFR, CFMU valid - Y FPL (IFR/VFR), 502 NM (it was impossible for me to find a better CFMU valid route)
5.) LSGS-EDDH, EXU815A+B, FL260 and above, SPR Z64 MOLUS UN871 DITON Z138 KUDES UN851 KEMAD UL190 NOLGO, CFMU valid, 531 NM
6.) EDDH-EDDM, EXU850A, FL260 and above, AMLUH UM852 POVEL UZ16 GALMA T703 LEKMI T105 VAMAS, CFMU valid, 356 NM
7.) EDDM-LYBE, EXU851A, FL250 and above, ROTAX UL603 OBEDI UN739 GOTAR/N0XXXF290 UN739 BABIT/N0XXXF270 T23 TADAM, CFMU valid, 426 NM
8.) LYBE-LFMN, EXU852A, FL290-FL450, VAL UL5 VEBAR UL615 AKADO UM196 LAGEN UQ712 ENOBA UZ185 BORDI , CFMU valid, 613 NM
9.) LFMN-LEVX, EXU853A, FL250-FL450, BODRU UM616 LERGA UN869 TBO UN995 PPN UN976 DGO UN725 TUSBA UH80 FINAM UN733 FORNO, CFMU valid, 790 NM
10.) LEVX-LEPA, EXU854A, FL280-FL450, LOMDA G255 BISMU UN725 BCN UW7 LORES, CFMU valid, 612 NM
11.) LEPA-LIRA, EXU855A, FL200-FL450, MORSS UM603 ALG UL5 VALMA, CFMU valid, 470 NM
12.) LIRA-EDDS, EXU856A, FL200-FL450, TIBER UL995 TZO/N0XXXF320 UL995 PEPAG UN851 ROMIR T125 REUTL, now CFMU valid with the FLl change, 470 NM
13.) EDDS-LFMD, EXU857A, FL260 and above, ROTWE Y126 TUBLO N850 NATOR UN850 ODINA/N0XXXF290 UN850 EVANO UZ185 BORDI, CFMU valid, 362 NM
14.) LFMD-LFPB, EXU858A, FL200-FL360, OKTET UM733 GIPNO UT26 LOGNI UN854 DJL, CFMU valid, 390 NM
15.) LFPB-EGGW, FL200-FL240, OPALE UT425 ABUDA UT427 GUBAR UM733 GURLU, CFMU valid, 210 NM
16.) EGGW-EDDW, FL280 and above, CLN UL620 ARNEM UP147 RKN UL980 OSN R15 BASUM T820 PIXUR, CFMU valid, 382 NM
17.) EDDW-LOWW, FL300 and above, NIE Z88 DLE UL986 POVEL UZ16 GALMA UM736 SONDU UL620 KOPIT UM748 ABRAX UT135 MIKOV, CFMU valid, 455 NM
18.) LOWW-LSGG, FL250-FL340, SITNI UL856 TRA Z69 OLBEN UN869 BENOT, CFMU valid, 458 NM or FL250-FL450, OSPEN UM984 BZO UM736 ADOSA UL615 AOSTA UZ637 BANKO, CFMU valid, 504 NM
19.) LSGG-LKPR, FL250 and above, MOLUS UN871 ABABI UZ39 GOSEK, CFMU valid, 441 NM
20.) LKPR-LIML, FL250-FL450, DOBEN UT255 CERNO UP31 VIBUG UM736 BZO UM984 LUSIL, CFMU valid, 363 NM
21.) LIML-LOWS, FL250 and above, OSKOR UM985 SUMIR UM726 KOGOL N871 BADVI L725 UNKEN T701 SBG, CFMU valid, 257 NM
22.) LOWS-EDDL, FL260 and above, SIMBA Y700 ABABI UZ39 LALIN UL604 SULUS T852 TINSA T854 DOMUX, CFMU valid, 380 NM
23.) EDDL-EGLF, FL260 and above, MODRU Z717 GOBNO UZ717 MAS UM617 SOGRI UL608 SASKI UL179 CPT DCT PEPIS, CFMU valid, 353 NM
24.) EGLF-LEBL, FL260 -FL490, GWC UN859 PUMAL, CFMU valid, 618 NM
25.) LEBL-LSZH, initial FL300, DALIN UN870 DIBER/N0XXXF320 UN870 MAXIR UN853 MOBLO UZ662 KORED UN871 BERSU, CFMU valid, 503 NM
26.) LSZH-LIEO, FL200 and above, GERSA UN850 ODINA UM727 SRN UM858 AJO UM733 CORSI, CFMU valid, 414 NM
27.) LIEO-EDMO, FL200-FL450, POZZO UP980 DIKEL UZ800 OKBON UN851 TORTU UM858 GEN UM985 DIBAX UT102 UNIMI T102 AMGAS, CFMU valid, 488 NM
28.) EDMO-LETO, EXU5149, FL250-FL450, KPT UL856 TRA DCT OLBEN UN869 ZAR UW100 TERSA, CFMU valid, 806 NM
http://www.gcmap.com...m&SG=411&SU=kts
Have good flights and hope we will see us on the Tour,
Markus